Now Available:
The Completely Revised Fifth Edition of...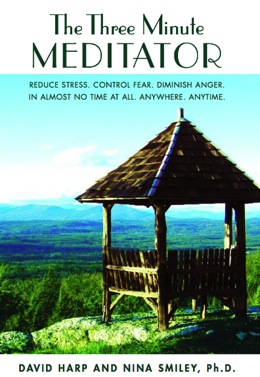 Hi Friends. We've loved all four previous editions, shown below, of
The Three Minute Meditator.
And we think that each successive edition was better than the last.

Now we believe that this new edition of "The 3MM" is the best one yet! It's our most user-friendly version ever, and features lots of effective and well-tested material from the hundreds of corporate presentations that David has done since the last edition. A
CD adaptation
from the book is now available, too!

— David Harp
— Nina Smiley


UPCOMING DAVID HARP WORKSHOPS OPEN TO THE PUBLIC:

I love doing mindfulness presentations and workshops with my beloved twin sister at Mohonk Mountain House, so please visit
http://www.mohonk.com/specials/mindfulness-at-mohonk-mountain-house
and meet us at one of our events at this world class hotel, spa, and nature preserve.
My next scheduled Harmonica-Based Mindfulness™ workshop is at The Kripalu Center, in Lenox, MA, runs from March 8 - 13, 2015.

It's called
How to Reduce Stress, Increase Mindfulness, and Blow Your Blues Away Instantly!

Please click on the link above to read about it. Or call this toll-free number — 1-866-200-5203 — to register.

I'll also be offering a one day
Mindfulness and the Art of the Harmonica: Play Blues, Rock, Folk, and Classical Music Today!
at Manhattan's New York Open Center on May 16, 2015, and a
Harmonica Kirtan
the night before (in which we explore the world's great spiritual music, through the harmonica, of course!). Please click on the links for more information, or call 212-219-2527 Ext. 2 to register.